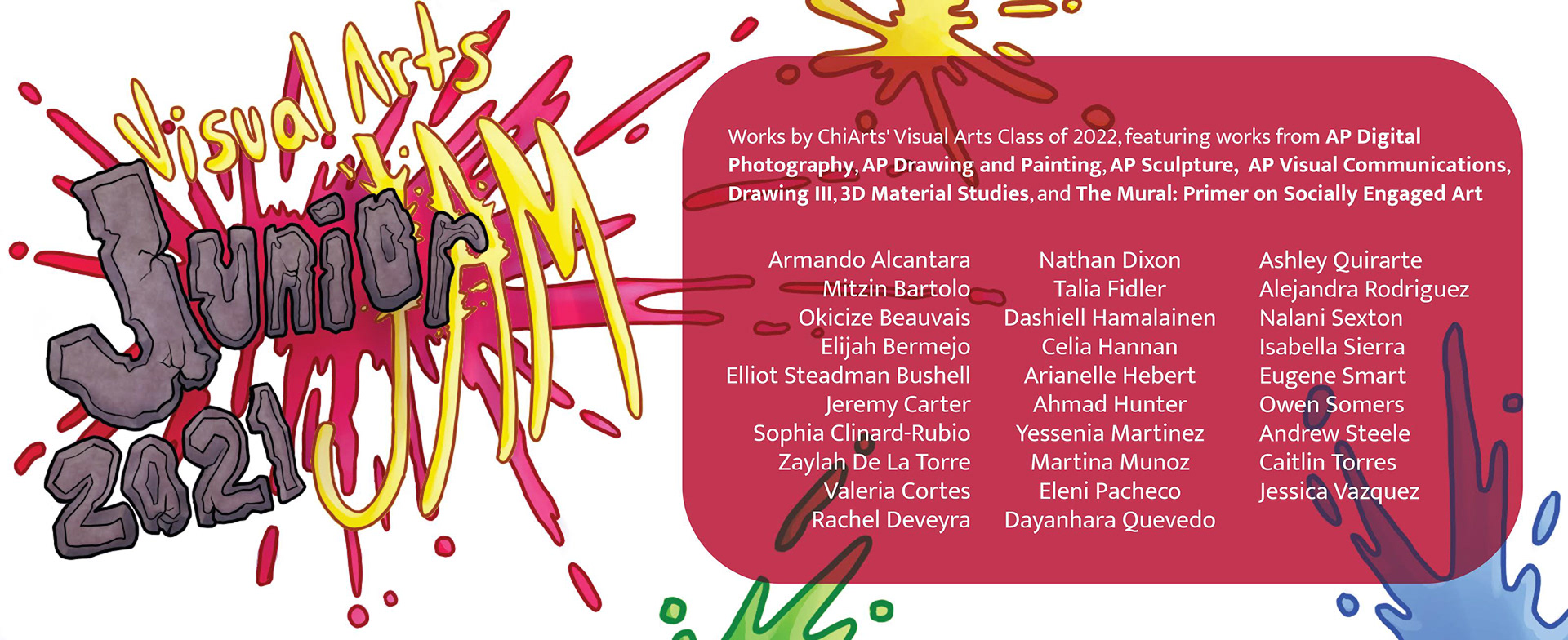 Welcome to the Junior Jam 2021 Online Exhibition!
I am thrilled to introduce you to the extraordinary work of our remarkable 11th-grade visual artists from the ChiArts Class of 2022! These fabulous young people have really pushed themselves and their art practice during this unprecedented year. They have also been a source of joy, inspiration, and community for us all.
You will see examples of work by every student made in a variety of classes. Each student has grown and developed their own art practice in new and surprising ways within their major course of study - either AP Sculpture with Moises Salazar, AP Photography with Whitney Bradshaw, AP Visual Communications with Ryan Swanson, or AP Painting/Drawing with Megan Greene. In addition, they have focused on experimental drawing and sketch booking in Drawing III with Megan Kalmes. They also enrolled in one of two electives to study. This year the electives are 3D Material Studies with Devin Mays or The Mural with Moises Salazar, which morphed into a public art in the time of COVID course. The final course in the junior year is Art History with Ali Rigell, which underpins and informs all of their practice. 
On top of this rigorous curriculum, these students have learned how to set up and maintain a safe and working home studio space that accommodates each medium. This is no small task and they have all managed to work it out beautifully with the support of their instructors and their families/guardians. Also important to note is that, utilizing what they have at their disposal, each of these students has documented their own work, both in progress and in the final form. 
Please enjoy this online exhibition and join us in congratulating these incredible young artists! We are so proud of all of them and their accomplishments! Cheers to the Visual Arts Class of 2022!!! 
Wishing you all the best,
Whitney Bradshaw
ChiArts Visual Arts Department Head + AP Photography Instructor